Residential Services
Home Improvement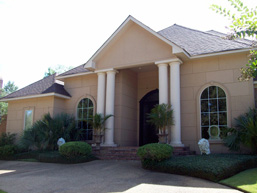 We collaborate with general contractors to provide top quality interior and exterior claddings for each project. We strive to take care of our customers and work with their best interest in mind. To insure this, our commitment to meeting safety standards of a high level and continuing to improve those standards is one of our core business objectives.
Stucco & Plastering
Our plastering tradesmen provide a superior level of quality workmanship, whether the project requires veneer, gypsum, plaster, or conventional stucco.
EIFS
With focus on today's new EIFS specification. Ingram plastering and company, Inc has been trained and certified for proper applications.
Contact us at:
601-366-5045 to speak to a representative about our residential services.
Ingram Plastering & Co., Inc. EIFS/Stucco specialty company serves the state of Mississippi, including the communities in and around:
Jackson, Madison, Clinton, Brandon, Pearl, Forrest, Hattiesburg, Oxford, Byram, Vicksburg, Gulfport, Meridian and Brookhaven, Mississippi. We also work in and around the northeastern states.